Our Duarte & Azusa Veterinarian for General Pet Surgery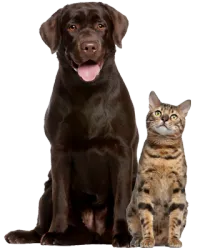 Our Duarte & Azusa veterinarian Dr. R. Zabihi performs a wide array of general pet surgeries, including:
Orthopedic Surgery
Soft-Tissue Surgery
Eye Surgery
Wound Care Surgery
Foreign Body Removal Surgery
Tumor Surgery
Common pet orthopedic surgeries include cranial cruciate ligament (CrCL) tear, patellar luxation, hip dysplasia and fractures. When the CrCL is torn or degenerating, the knee joint becomes inflamed and can cause pain for your pet. It also may be difficult for your pet to get around.
Dr. R. Zabihi examines your pet, takes X-rays and provides you with an array of surgical options for CrCL. Patellar luxation is when the knee-cap dislocates and moves out its proper position. It's a painful condition and can result in lameness. Most small and mid-sized dogs can be treated using conventional surgical methods, but larger dogs typically required more complex surgical procedures.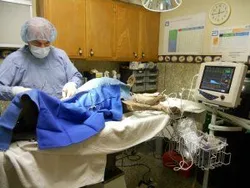 After diagnostic testing, Dr. R. Zabihi will let you know the best way to proceed. Hip dysplasia is an abnormal development of the hip joint and often develops into an arthritic condition for both dogs and cats. Dr. R. Zabihi can do a total hip replacement or just surgically treat the ball-in-socket structure. For elbow dysplasia, surgical treatment is performed arthroscopically.
Mast cell tumors are high risk in a number of dog breeds, including the Boxer, English Bulldogs, Golden Retrievers and Cocker Spaniels. For Grade I tumors, surgery is curative. For Grade II tumors, we offer wide surgical excision along with radiation therapy. If your pet has incurred a deep laceration or deep bite wound, surgery may be required to stitch them up.
We also perform laser eye surgery for conditions like glaucoma. Laser eye surgery is the preferred treatment for pets with primary glaucoma. We anesthetize pets and use the laser to reduce intraocular pressure.
Pet Surgery with Care at Duarte Azusa Animal Hospital
At Duarte & Azusa Animal Hospital, we have high standards for pet surgery to ensure the safety and comfort of you furry friend. Prior to surgery, our vet completes a full physical exam and completes blood tests to determine the best anesthesia protocol for your pet's age, physical condition and breed. During surgery, we monitor your pet's heart rate, respiratory rate, pulse and body temperature.
The safety and comfort of your pet is always of utmost importance with our team. Some pets can go home several hours after surgery. Before you and your pet leave, we provide you with detailed written instructions for aftercare and the appropriate pain medications for your pet to ensure comfort during recovery.
If your pet needs emergency surgery, routine surgery like spay and neuter, orthopedic surgery, eye surgery or soft tissue surgery, count on us to provide the best care. Give us a call at (626) 357-2251 to schedule an appointment for your pet's surgical needs.