Pet Surgery from Our Duarte & Azusa Veterinarian
If your pet needs surgery, rest assured that he's in the right hands here Duarte Azusa Animal Hospital. Our Duarte & Azusa veterinarian can recommend and perform procedures to relieve pain, facilitate healing, or even save your pet's life.
Soft Tissue Surgery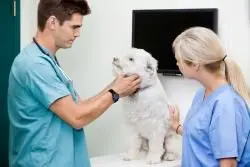 Many of the surgical procedures we perform fall under the category of soft tissue surgery. Some of these surgeries are entirely routine and are performed for the benefit of your pet's long-term health and wellness. For instance, spaying (removal of the female animal's uterus, fallopian tubes and ovaries) and neutering (removal of the male testes) remove your pet's risk of developing life-threatening reproductive cancers; sterilization also prevent pets from going into heat, which makes them less likely to get into fights or roam into dangerous territory. We also offer complimentary microchips (clients just pay microchip registration) for pets with Spay & Neuter surgery.
Other types of soft tissue surgery may be more urgent in nature. Examples include:
Lacerations - A significant laceration may need stitching up to permit healing and prevent infection.
Tumor removal - Internal or external tumors may require surgical removal and biopsy to check for any malignancy.
Foreign body removal - If your pet swallows a threatening object, or if something has penetrated the skin, we may need to remove it surgically.
Gastric dilatation and volvulus - GDV, a twisting of the stomach that can occur in larger animals, is a medical emergency that calls for surgical correction.
Orthopedic Surgery
Orthopedic surgery involves procedures to repair or modify the musculoskeletal system. Your pet's bones, muscles, connective tissues and joints can be vulnerable to a wide range of injuries and disorders -- and without proper treatment, these conditions can cause your pet to become lame and suffer pain. Our Duarte & Azusa veterinarian can administer the necessary procedures to help your pet get over an injury or enjoy a higher quality of life. Common orthopedic surgeries include:
Fracture repair - We can set broken bones by surgically installing internal plates and screws.
ACL surgery - A damaged ACL (anterior cruciate ligament) can render your pet's knee joint highly unstable or even completely useless. We can solve this problem surgically by reshaping the knee joint's bones so your pet's weight can be supported without a functioning ACL, or we may be able to create an artificial substitute for the damaged ligament.
Hip surgery - Some breeds of pets are especially vulnerable to hip dysplasia, a congenital degeneration of the femoral joint than can make running, walking or even standing impossible. We may recommend surgical modification of the pelvis, removal of the head of the femur, or even a full hip replacement.
Osteoarthritis surgery - Arthritis due to inflamed and degenerated cartilage can affect animals as well as humans. Severe cases may call for surgery to clean out the damaged cartilage or fuse two painful joints together for long-term pain relief.
Learn More from Our Duarte & Azusa Veterinarian
Contact our Duarte & Azuasa veterinarian to discuss your pet's surgical options. We're here to help! Schedule an appointment with us today at (626) 357-2251!